Aug 2023
 
When most people think of Japan, they probably envision the bright lights and bustling streets of Tokyo or the vibrant city of Osaka. These cities certainly have a lot to offer, from delicious food to rich cultural experiences, but they are just two of many cities in Japan that are worth exploring.
In fact, some of the most interesting and unique experiences in Japan can be found outside of Tokyo and Osaka, like the off-beaten track, Nagasaki and Fukuoka. These cities have their own distinct personalities and cultures, and they offer a great alternative to the more well-known tourist destinations.
Nagasaki, the old gate to Japan
Nagasaki, located on the western coast of Japan's Kyushu Island, is a fascinating destination with a rich history and culture. One of its most notable attractions is Dejima, an artificial island that was once the only point of contact between Japan and the outside world during the Edo period. Visitors can explore the restored Dejima Nagasaki Museum of History and Culture, which showcases the island's role as a trading hub and offers insights into the lives of the Dutch traders who lived there. This place has been converted and we are able to organize events there, bringing history and culture into part of the event making it more memorable.
Aside from Dejima, Nagasaki has much to offer, including beautiful gardens, traditional architecture, and delicious food. The city is also a great destination for meetings and events, thanks in part to the Dejima Convention Center. This modern facility is in the heart of the city and offers a range of meeting spaces and amenities for groups of various sizes. The center's location also makes it easy to explore Nagasaki's many attractions, from the nearby Glover Garden to the Nagasaki Atomic Bomb Museum.
Visitors can explore the city's charming streets, important sites with historical background and lovely gardens, or take a cable car up to the top of Mount Inasa for stunning views of the city and its harbor. Nagasaki is also known for its food, particularly its unique style of champon noodle soup. This is a Chinese-influenced noodle dish filled with seafood, pork and vegetables in a rich broth made from pork and chicken.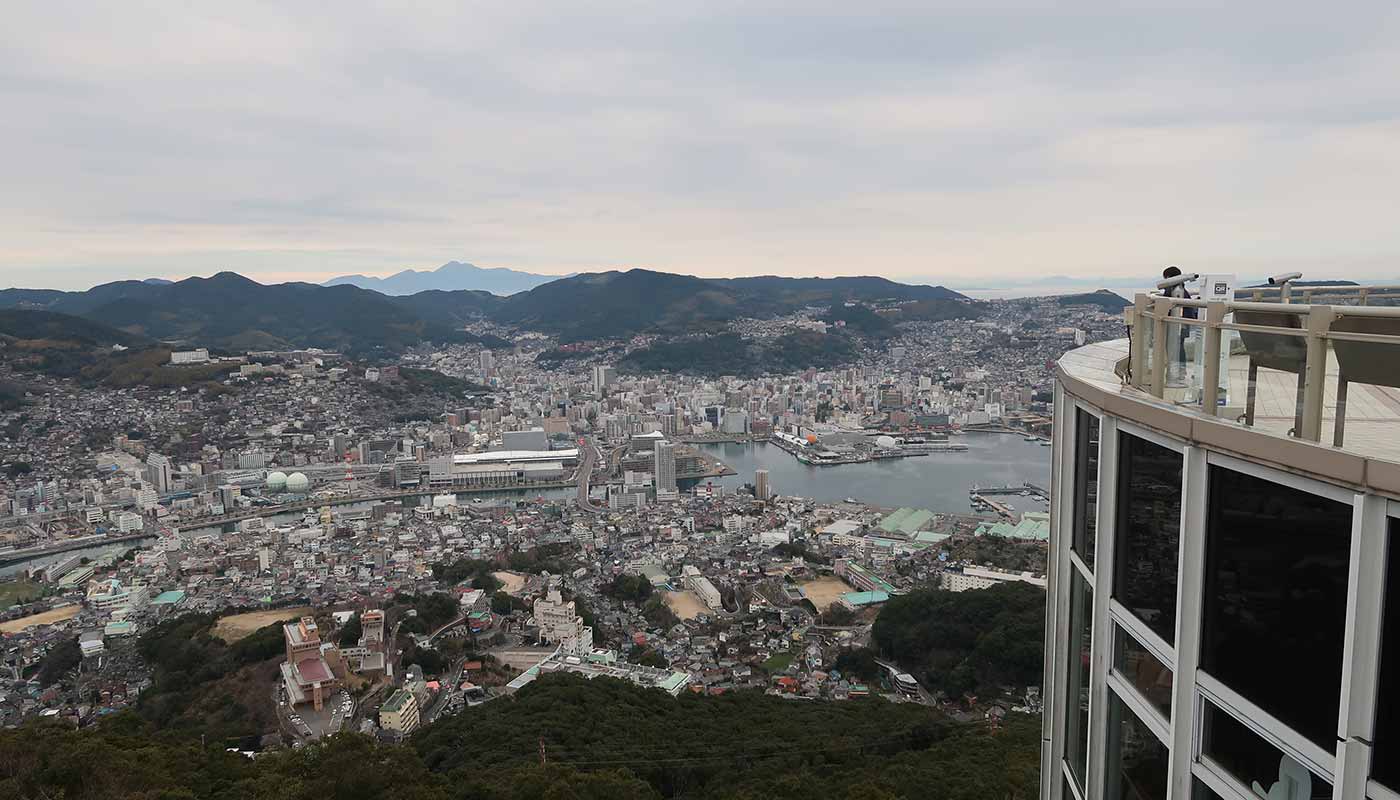 Stunning views from Mt INasa
Food and Nature in Fukuoka
Fukuoka, another city worth exploring, is one of Japan's largest and most vibrant cities. Visitors can explore the city's many museums and galleries, including the Fukuoka Art Museum and the Fukuoka Asian Art Museum, which showcase a wide range of works from across Asia. The city is also known for its tasty local cuisine, like tonkotsu ramen and mentaiko (spicy cod roe). And for those who love nature, Fukuoka offers idyllic parks and gardens, as well as nearby attractions like the Yanagawa River, which can be explored by boat. For team building or to experience the Japanese culture, try painting the Hakata Doll, local traditional art and craft in Fukuoka.
Choosing a city like Nagasaki or Fukuoka for your next meeting or event can be a great way to experience a more authentic side of Japan. These cities offer a more relaxed pace of life than Tokyo or Osaka and may also offer more affordable prices. And with their unique histories and cultures, they offer plenty of opportunities for exploration and discovery.
So why not add Nagasaki or Fukuoka to your Japan itinerary and see what these fascinating cities have to offer? These cities are filled with rich culture, history, and delicious food, and they offer a great alternative for travelers' who are looking for something a little bit different. So next time you're planning an event in Japan, consider adding one of these cities to your itinerary – you won't regret it!
Special thanks to Japan National Tourism Organisation (JNTO) for the familiarisation trip to let me get to know more about these two cities offering for Meetings & Events.
Author: Luther Low, Regional Operations Director Asia Pacific - CWT Meetings & Events
It is time to host your next meeting or event in Japan.