17 October 2023


When it comes to choosing a location for meetings and events, Amsterdam consistently ranks as a top choice. With its rich history, stunning venues, and vibrant atmosphere, the Dutch capital offers a unique and inspiring setting for any gathering. Join us as we explore Amsterdam and find out why it's an ideal choice for meetings and events, recommend some fantastic venues, and share a few fun facts about this incredible city.
Why Amsterdam?
Centrally located: Amsterdam is a hub of international travel, making it easily accessible for attendees from around the world. Amsterdam Airport Schiphol is one of Europe's busiest airports, ensuring convenient connections. A train can bring you to the city center in just about 20 minutes.
Unique venues: The city boasts an array of unique venues, from historic canal houses to modern conference centers. Consider hosting your event in a canal-side mansion, a former industrial building turned chic event space, or even a cutting-edge museum.
Multilingual and diverse: Amsterdam's population is known for its diversity and fluency in English, making it an ideal location for international events. You won't have to worry about language barriers here.
Cultural richness: With world-class museums like the Rijksmuseum, Van Gogh Museum, and Anne Frank House, attendees can explore Amsterdam's cultural heritage during downtime.
Recommended Venues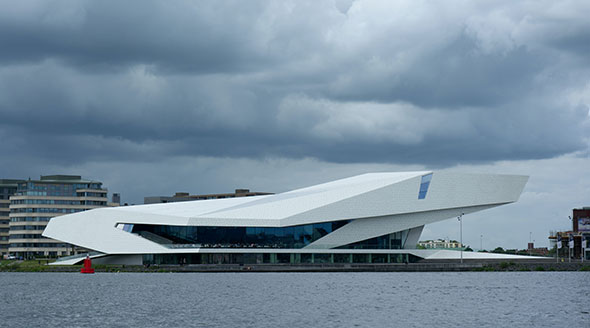 Amsterdam Eye Film Museum (Photo by Stephan Hinni on Unsplash)

  Fun Facts About Amsterdam
Canals Galore: Amsterdam is often referred to as the "Venice of the North" due to its extensive canal system. In fact, there are more canals in Amsterdam than in Venice. Book a boat trip to explore Amsterdam from the water.
Bicycles Rule: With over 800,000 bicycles in the city, Amsterdam is one of the most bike-friendly places in the world. You'll often see more bikes than cars on the streets.
Tolerance and Diversity: Amsterdam is renowned for its progressive values and openness. It was the first city in the world to legalize same-sex marriage in 2001.
Flower Power: The Netherlands is famous for its tulips, and Amsterdam's floating flower market, the Bloemenmarkt, is the only one of its kind in the world.

Amsterdam Bloemenmarkt (Photo by antonio molinari on Unsplash)
Amsterdam offers a perfect blend of accessibility, unique venues, and cultural richness for meetings and events. Whether you're planning a conference, a gala dinner, or a corporate retreat, the Dutch capital is sure to leave a lasting impression on your attendees. So, consider Amsterdam for your next event, and immerse yourself in the charm and vibrancy of this extraordinary city.